I have hinted in the past that a quilt along was on the horizon, and the time is now, People! I have paired up with Kate from
Needle and Spatula
to co-host a Drunkard's Path Quilt Along. As soon as I saw Kate's gorgeous quilt top (
here!
), I knew I wanted to delve deeper into this block and that she was the perfect person to do that with. So, the Drunkard's Path Quilt Along was born! I hope you can join us :)
I love the versatility of this block. It is traditional, yet can produce some of the most beautiful and modern patterns. Just check out some of these quilty inspirations in addition to Kate's take on this block!
1.
go! baby. mini quilt.
, 2.
Ripple quilt top
, 3.
Doll Quilt
, 4.
Bouncing Baby Blanket (Drunkard's Path Variation)
, 5.
DRUNKARD'S PATH VARIATION - Handmade by Zilla Cook - quilted by DLQ
, 6.
mon sheri waves
, 7.
Yet another Drunkard's Path Variation
, 8.
Gobstoppers Quilt
, 9.
DRUNKARD'S PATH VARIATION - Multi Scrap/Cream - detail 1 - by Zilla Cook - quilted by DLQ - overall meander
, 10.
Drunkard's Path quilt...coming together nicely so far
, 11.
Drunkard's Path quilt top
, 12.
Drunkard's Path
We'll be starting up this project on October 21. We will be posting fabric requirements October 4 so that you can start to stock up. The quilt top will be finished in November, so that you can have it quilted and ready to gift for Christmas! One more thing off the holiday to-do list ;)
Here is the schedule:
September 30:
Block construction options/curve-sewing tutorial
October 4:
Fabric requirements
October 14:
Block arrangement ideas
October 21:
Planning blocks and cutting your fabric
October 27:
Sewing your blocks
November 8: Assembling your blocks
November 15: Putting it all together to make your quilt top
November 21: Show and tell linky and giveaway!
Of course, there will be some fabric giveaways for those who get their tops done on target. Randi from
Fresh Squeezed Fabrics
has offered a gift certificate for $40 of fabric of your choosing- that is enough for 5 yards of fabric, basically another entire quilt top!
And Jody from
The Fabric Shoppe
has also generously offered up a fat quarter pack of Tula Pink's Prince Charming:
The cool thing about this quilt along? Kate and I are each doing it differently. Kate will be providing information and directions using templates, and I will be doing the same using the Accuquilt Go! Baby Drunkard's Path die!
Don't have a
Go! Baby
yet? Well, that is where the giveaway comes in handy, eh?
The lovely folks at
Accuquilt
have given me a Go! Baby to share with one of my readers, along with
3 dies of your choice!
So go ahead and select the Drunkard's Path die as one of the three, and get right in on the quilt along fun! Want to see what else is available? Click on the link below to check out some free patterns by Accuquilt to get the ideas flowing :)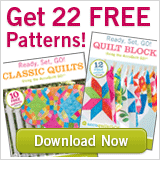 To enter, leave ONE comment. If you grab our QAL button and put it on your site, come leave a SECOND comment with a link and you get another entry. Winner will be announced on Thursday September 29. Best of luck!
THIS GIVEAWAY IS NOW CLOSED